Edgar Yesid Duarte and three other hostages
killed by the FARC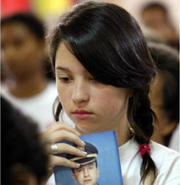 Viviana Duarte with a picture of her father,
Edgar Yesid Duarte,
detained by the FARC since 1998
Dear all, dear friends,
It is with stupor and sadness that we heard Saturday evening about the death of Edgar Yesid Duarte, Susy Abitbol's husband and Viviana Duarte's father, who was killed by the FARC.
Since its creation, the French Association of Victims of Terrorism supports Susy Abitbol and Viviana Duarte, both Franco-Colombian and members of the association. Thus, Susy and Viviana expressed themselves regularly in front of medias or during our conferences, in order to ask for the liberation of Edgar Duarte, one of the more old-timer hostage of the FARC (for 14 years), and to explain their situation.
Chantal Anglade, administrator of AfVT.org, was with Susy Abitbol on Saturday evening, when the death of Edgar was confirmed. She stayed close to Susy to bring her support and assistance.
Our friend Susy Abitbol took a flight early on Sunday morning to meet in Columbia her daughter Viviana, who was participating for a few days to a walk destined to ask the liberation of the FARC's hostages.
Up to now, despite our insistence and the action of Me Antoine Casubolo Ferro, our lawyer to defend Susy and Viviana, the « guarantee funds for victims of terrorism » refused to take their situation into account for the reason that they were not victims; the only victim was the hostage and didn't have the French nationality.
However, it is the whole family who was hostage of the FARC, since 1998 ! It is important to remind that Viviana was only two years old when her father was kidnapped. How is it possible to consider any future and to construct this future when your husband or father is attached to a tree in the middle of the virgin forest and that you don't know if and when you are going to see him again ?
Unfortunately, the situation has deteriorated. Susy and Viviana are going to need, more than never, our technical and affective support, in order to reconstruct their life.
We count into your support to help us for this mission.
Sincerely,
Guillaume Denoix de Saint Marc
Association française des Victimes du Terrorisme – AfVT.org
New address : 5 bd Pereire, 75017 Paris, France